Intro
Hi everyone,
I just joined this KAL. My name is Becky and I'm knitting my very first pair of socks. I have always wanted to try it, but was afraid to get going. So to force me into it, I signed on for the Sockapalooza sock swap. Here is the first of my socks - second one to come (no second sock syndrome here!)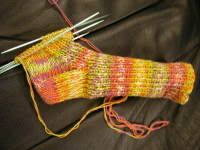 In progress...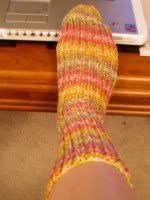 Finished!
The yarn is from Knitpicks,
Simple Stripes
in Snapdragon. I am using two balls stranded together so that's why my sock is not producing the striping like shown. I actually like it better the way I'm doing it. Hopefully my sock pal will too!