Pirates!
These socks were inspired by my hubby's love (ok, and my love) for the movie
Pirates of the Caribbean
. We are both really looking forward to the second movie coming out, so when I saw that Lorna's Laces makes a color called Black Purl (the ship in the movie being the Black Pearl), I knew he needed pirate socks. Combine that with the
"We Call Them Pirates" hat
, and what do you get?
These! (Main color is the Black Purl, heels & toes are Knit Picks Essential in Black, and colorwork is in Patons Kroy Sock in Muslin)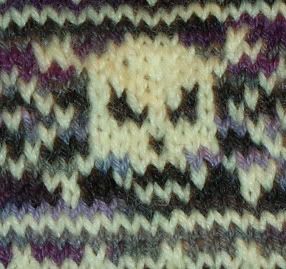 I completely shocked myself by finishing these in a week. Stranded colorwork is totally new to me (other than one sad attempt at the Fairway Fair Isle pattern from knitty), so I was pleasantly surprised at how much I enjoyed it. I believe the WCTP hat is in the future for Kris, as well as some other Fair Isle projects I've been lusting over but afraid of. Now to conquer the fear of steeks...